Addressing the Bleisure Travel Challenge
How Leisure Travel coverage operates under Corporate Travel Insurance
As macro and micro risks evolve, the insurance industry has been forced to revise its risk appetite when it comes to including leisure travel cover under Corporate Travel policies.

We know this has created challenges for our Brokers, so we thought we'd give you a quick guide to addressing the Bleisure travel conundrum.
Customer-driven changes
In a recent report from IBISWorld1 on the travel insurance industry in Australia, they highlight what insurers have been feeling since return to travel commenced post-COVID. Despite the "normalisation" of living with COVID, and return to travel nearing pre-pandemic levels, travel risk appetite has changed.

This is not necessarily reflective of claims increases, but more so of the increased awareness of health, medical and security risks associated with travel, all of which can have dire safety consequences, along with significant financial impact. The aware client is now seeing travel insurance not as a necessary evil, but a much-needed requirement – this includes the desire to understand how the policy will respond should something go wrong.

AHI and our Brokers experienced this shift in the market firsthand, through the strong response we received to our enhanced education on Corporate Travel with COVID cover, and the fact that clients were willing to pay the additional premium to ensure increased coverage.
When does a Corporate Travel Policy Cover Leisure Travel?
Leisure travel is included in AHI's Corporate Travel cover for Director's and C-suite when they have declared their trips. However, there are certain times where it's in the Client's best interest, or necessary (e.g. when cover does not extend to certain non-dependants and other employees) to take out a separate Leisure Travel policy.

The intent of Corporate Travel policies for general employees, is to cover trips predominantly related to business, with incidental leisure travel, known as 'associated leisure travel' – that is, the majority of the trip is business related, but you add a few days at the end or beginning of the trip for leisure. Under this, their spouse, and dependants under 18 years of age, or under 25 years if they're full-time students are also entitled to cover if ALL of these trips are declared separately.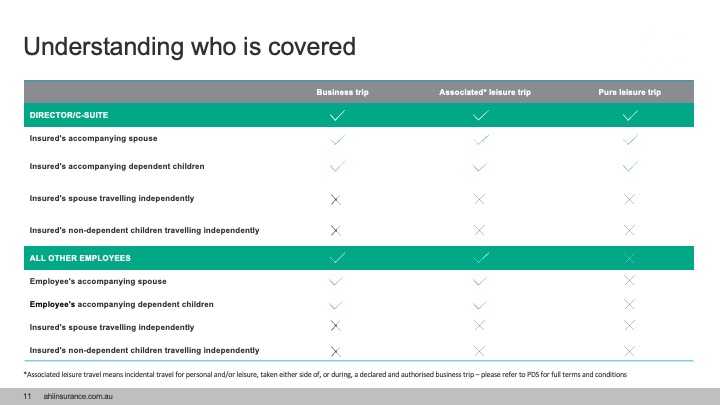 We know the world isn't black and white, but we wanted to give you a guide to help ensure your clients get the right cover. At AHI, the Travel Declaration is critical in assessing the increased exposures they face on leisure travel versus business travel. Without a comprehensive travel declaration, clients could face denied claims, or additional premium charges should something go wrong on a non-declared trip.

Of course, we're always ready to discuss the individual needs of your corporate clients, however, generally speaking, leisure travel involves different risks to a business travel, so we will sometimes require additional premium/or coverage limitations. Or they could take out a separate leisure travel policy to get the coverage they may need (like flexible cover and excess options e.g., Cruise or Ski and Winter Sport; $200, $100, $0 excess).
How do Brokers provide Leisure Travel to their clients
Of primary importance to Brokers and Insurers is mitigating risk for our clients. When things go wrong, we want to ensure that claims are processed and paid with minimal disruption so our mutual clients can focus on what matters most, continuing their travel or recovery from an incident or illness.

So how can Brokers minimise their own reputational risk? If we take it down to three key factors:
It is critical to educate clients on the importance of travel declarations. Consider mid-year prompts to clients to see if any additional trips are planned and disclose any changes to AHI to ensure there is sufficient cover or potential partial refunds are processed
Encourage clients to ask before they travel to ensure the trip has been declared to avoid unnecessary delays in claim approvals and processing
If travel disruptions occur, before you act, call AHI Assist. They can support you with new travel arrangements, emergency guarantee of payments if hospitalisation is required, and security protocols that will keep you safe during an incident.
If your client is unsure whether the business to leisure travel balance will fall within limits, you may consider referring your client to our sister company, World2Cover, who are an online leisure travel insurance provider. World2Cover are wholly owned by Tokio Marine, one of the largest global insurers. World2Cover are a multi-award-winning leisure travel insurance product that offers value to clients with broad cover, competitive pricing, exceptional claims service and 24/7 medical emergency assistance.

For Brokers, it's an easy sell when you combine their intermediated partner focus through two solutions:
AHI's World2Cover Leisure portal
:
Follow the
Leisure Travel product link on AHI's website to receive 10% discount
. Simply pass the link on to your clients for minimal Broker intervention. Your client can complete the online quote and purchase online (including an online pre-existing medical assessment where required) or contact World2Cover by phone.
Customised co-branded portal
If leisure travel forms a decent portion of your travel portfolio (i.e. more than 20 policies written per month), you may be eligible for your own co-branded portal, with a 20% discount that allows you the flexibility to split this between commission and passing on savings to your clients.
This option becomes an outsourced solution, and World2Cover will handle all the details with your client on your behalf. World2Cover will provide you with a quarterly report, outlining your sales and the total expected commission. Contact your AHI Underwriter to see if you qualify or
click here to make an enquiry
.
Why World2Cover
World2Cover is a multi-award-winning online travel insurer that offers cover for both the relaxed, and adventurous traveller.

World2Cover insurance options provide easy-to-understand policies, offering value at every step of a journey - from tips on planning a safe trip, to helping select the cover that's most suitable.
When things go wrong, there is added peace of mind that our dedicated claims team and global network of assistance providers will take care of the details so travellers can focus on continuing their journey, or a speedy recovery.



View all World2Cover benefits here

Interested in World2Cover Leisure Travel insurance to complement your AHI Corporate Travel Policy? Contact your Underwriter or submit an online enquiry now.
Refer to AHI policy wordings for all terms, conditions and waiting periods
Please read the World2Cover Combined Financial Services Guide and Product Disclosure Statement for full details of terms and conditions, limits (including sub-limits) and exclusions apply to each of our policies and the different benefits.
1. IBISWorld Industry Report: Travel Insurance in Australia. Taking flight: Profitability and revenue will recover as demand returns to pre-pandemic conditions. Danny Martin, October 2022.