Claims
Need to make or check on a claim?
We're always here to help when you need us.
Speak to a decision maker
We keep our claims process streamlined and simple, so that when things go wrong, you can count on us to get you a resolution as quickly as possible.
Our in-house experts and strategic partners have high settlement authority limits and can discuss any aspect of your claim, providing the assistance you need, when you need it most.
How to make a claim
So we can assess your claim as quickly as possible, please ensure you use the form relating to your particular type of policy. Complete the compulsory and relevant sections and provide the listed supporting documentation.
If you require any assistance in preparing these documents, we're happy to lend a hand.
Call our team on 1800 618 700 during business hours and we'll make sure you're on the fast track.
Claims can be lodged via:
Email: claims@ahiinsurance.com.au or directly to your assessor if you have their details.
Post: GPO Box 4213, Sydney, NSW 2001
For any other enquiries, please contact AHI during business hours on 1800 618 700.
For emergency assistance
Simplifying the Claims Process
We understand when a claim happens, it can be an overwhleming time for both claimants and their brokers. Below we've outlined some high level examples of two of our major claims categories. Whilst each claim can vary greatly, these examples will help you to understand the key stages that may occur during a claim.
Example Travel Claim Stages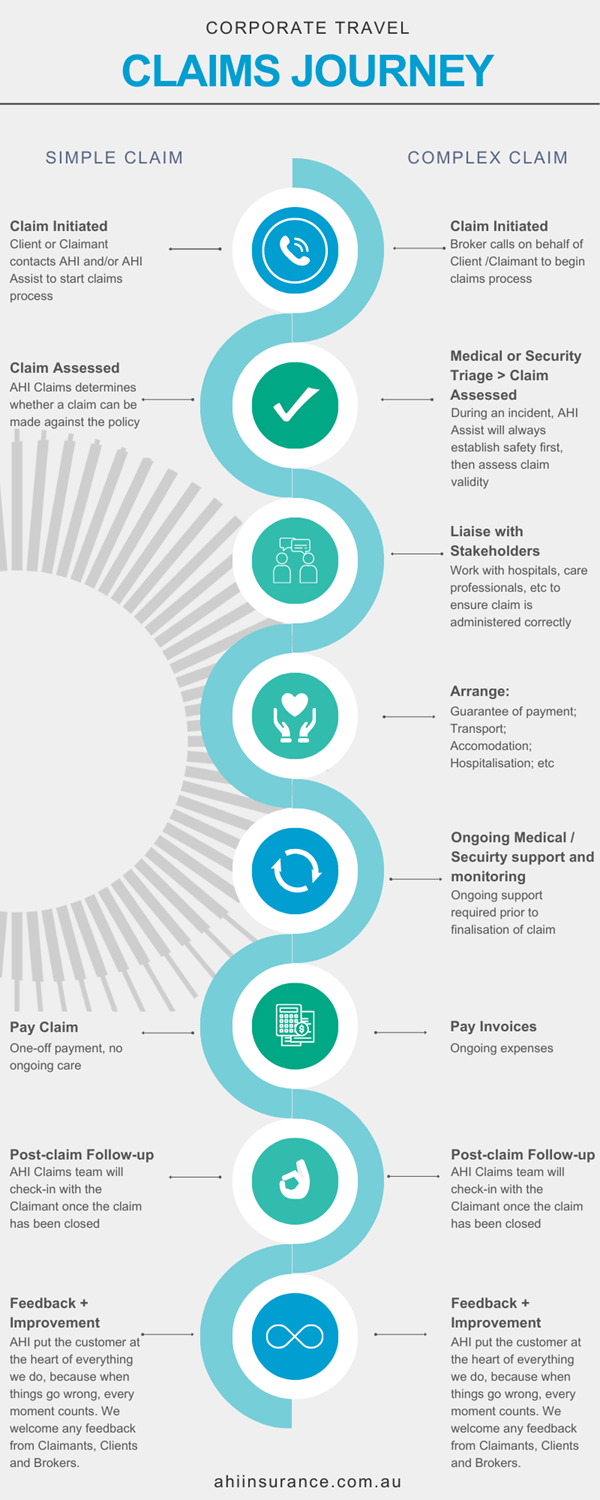 Example Personal Accident Claim Stages